NEW LIMITED BLACK TEDDY
BLACK IS EVERYTHING

Say hello to So Black. Our newest member of the Teddy family has finally arrived. Whether you're working from home or just spending most days in lounge wear, Black Teddy is here to keep your feet feeling snuggly. Made from new and improved decadent and luxurious materials. Our hand-crafted plush slippers have become synonymous with luxury for their indulgent comfort and enduring design. Improved platform soles maximize cushioning, durability, and traction.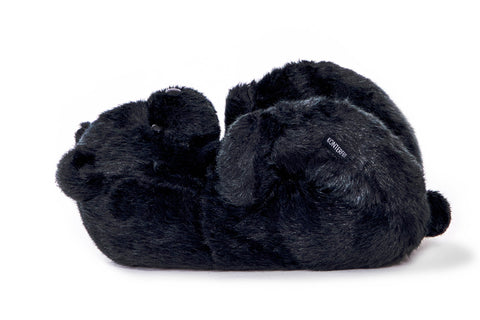 New High-End Material

| | | |
| --- | --- | --- |
| | | |
| Premium Faux Fur | Local Cotton | Rubber Dot Sole |

The So Black Teddy looks gorgeous with its dark black coat. All new high-end materials were sourced for the creation of Arctic Teddy. The thick hard rubber bottom soles are durable and sturdy, inside is an ultra thick soft cushion which will leave you feeling like you're walking on marshmallows.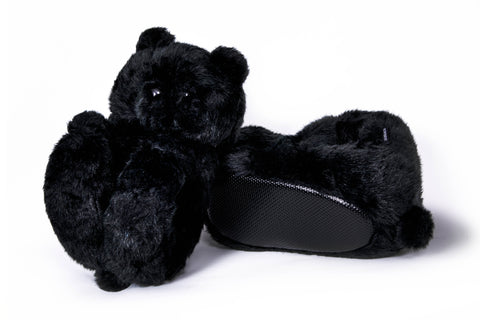 Body Dimensions
L : Teddy Length
Small 13 inches
Medium 14 inches
Large 14.5 inches

W : Teddy Width
Small 7 inches
Medium 8 inches
Large 8 inches

H : Teddy Height
Small 7 inches
Medium 8 inches
Large 8 inches

The new thick rubber
soles are cushy, comfy, and
durable. 

Specialized Craftsmanship
Our new manufacturing process has been re-envisioned from the ground up with quality in mind. So Black Teddy's gorgeous premium dark faux fur was specially developed and manufactured for the purpose of comfort, style and durability.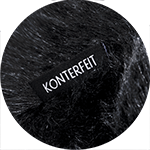 Designed in Canada

Designed in the great white north and inspired by the country we call home, Konterfeit is a celebration of creativity, progress and the power of big dreams—and that's something we can all get behind, wherever you live. 
Shipping & Delivery 
We're excited for you to get your very own teddy bear slippers, that's why we use fast and reliable Canada Post shipping. All items are shipped from Vancouver, Canada and come with Canada Post tracking numbers. 
Cruelty Free 
No furry friends were harmed in making our products. All materials are procured from sustainable eco-friendly sources. We try our best to support local businesses whenever possible, but when we can't we partner with distributors who share the same love and compassions as us.  
Have A Question?

Reach us anytime by email or Instagram messages and we'll get to you as soon as we can.